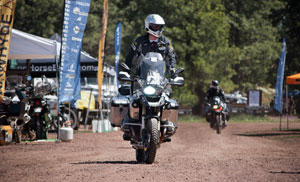 So whats over in Arizona that would be interesting to see, do and explore? There is an amazing amount of kick ass stuff to do and see in the great state of Arizona. There's great riding, great scenery and all the fun of a RawHyde Rally combined with the amazing Overland Expo.

For starters let me say that we are really pleased to be hosting our rally side by side with the Overland Expo and bringing you the opportunity to enjoy a three days of adventure riding as well as a chance to explore the expo! There you'll see gear and equipment from over a hundred adventure oriented vendors that will have come from all over the world to show you their wares. We have attended Overland Expo for the last three years and its an amazing event. Its sort of a combination between a trade show and an African Safari. Everything you could ever need to take a "round the world trip" is on display. Whether you are a four wheeler... or a two wheeler its all there to be seen and dreamed about.

To Learn more about the Overland Expo Click here.


On our part - The Arizona Adventure Rally will take place at Mormon Lake, Arizona, just a few miles from the world renowned Mogollon Rim and the Grand Canyon. We'll be camped up high in the mountains above 7000 feet, nestled in the pine forests with hundreds of miles of dirt roads in the incredible settings of the Mogollon. Everyone who has read a Zane Grey novel or a Louis L'Amour book knows of the Mogollon. Its a rugged escarpment of stone that runs a couple of hundred miles through the back country of Arizona. In many places the shear drop along the face of the rim is a half mile or so in height and there are dirt roads galore. Its an awesome place for an adventure ride... please join us!

If you're a little uncertain about the whole idea of backcountry travel on an adventure bike have no fear... we are running our "intro to adventure" rider traing program at the rally. This class will allow you to learn the basics of "off roading" and leave you plenty of time to explore the surrounding country and see the Expo too. Click here to learn more about our training program.



&