Phase 3: The Expedition CV

Advanced "Field" Training
What is a "CV"?


C

ur·ric·u·lum

V

i·tae

noun \kə-'ri-kyə-ləm-'vē-,tī, -kə-ləm-, -'wē-,tī, -'vī-,tē\
:A short account of one's career and qualifications prepared
typically by an applicant for a position. A resume.
Latin: "course of (one's) life"

Above is an short film highlighting the Expedition C.V. by: Stephen Gregory

Since 2002 RawHyde has provided world class off road rider training programs for owners of big Adventure Bikes. Our goal has been to create exciting programs and classes that increase skills & bolster levels of confidence among riders of motorcycles like the BMW GS and KTM 990 Adventure. We have provided services to thousands of riders and operated riding clinics around the US, as well as Canada and Mexico. In the years that have passed since RawHyde's inception we have received great reviews for our "Intro to Adventure" rider training program. In this class we teach people the "basics" of back country travel on large motorcycles. We are pleased to offer our new expedition program which is aimed at making the connection between the structured environment of our training school and the real world.


RawHyde began to bridge the gap between our training school environment and the real world in 2008 with our Base Camp Alpha program which is a two day desert ride aimed at cementing the skills taught in our Intro to Adventure program, but BCA as we call it is simply a skills reinforcement program; not continuing education.

The Expedition C.V. is both the final step and the "missing link" in Adventure Rider Training. The letters C.V. are from the Latin phrase "Curricula Vitae" which in modern terms it means: "a resume" - so in other words this program helps you build a resume' of accomplishment as a rider. This program is part expedition preparedness, part education and part vacation. It's a real life adventure, on a fully loaded motorcycle and it takes place in the "real world" not the carefully crafted environment of our training school. To top the experience off… this is one cool trip as well.

As mentioned above this is a carefully designed training program but its also a fantastic adventure through the heart of the incredible Mojave Desert, and it provides many elements of education while at the same time affording a great vacation. Click Here to learn more about the Education & Vacation component.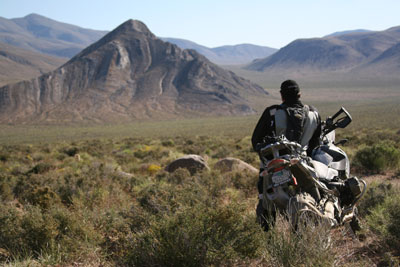 The purpose of the Expedition is to expand the training experience beyond what RawHyde has created with its curriculum based programs in Southern California. The expedition takes place in the deserts of California and Nevada using Death Valley National Park as the centerpiece for the trip. Death Valley is considered to be one of the world's greatest "Adventure destinations" and many of the Valleys natural wonders are 50 miles or more in the back country at the end of a rough dirt road. Death Valley simply stated is an "Adventure Rider's heaven".

The Expedition C.V. is offered quarterly; as a follow up to the RawHyde / BMW Off Road Academy training program.
Expedition CV Schedule:

The challenging RawHyde Expedition C.V. will teach, and place into practical application, techniques needed to successfully plan and execute an extended overland off-road motorcycle expedition. This course will take riders into the beautiful Mojave Desert, over high mountain passes, and through the heart of world famous Death Valley, over 700 total miles of incredible back country scenery.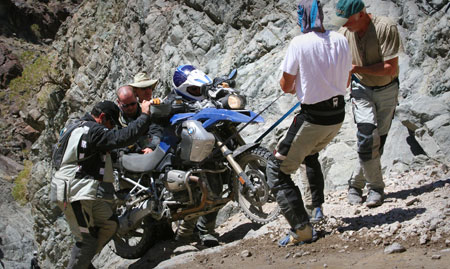 This advanced course will take place over 6 nights and 5 days beginning on a Sunday afternoon, and wrapping up Saturday morning. Riders will arrive at the RawHyde ranch (BMW academy) with their adventure motorcycle complete with panniers or any other suitable form of off-road capable motorcycle luggage, or rent one of RawHyde's BMW GS's fitted with panniers.

Riders will also need to bring their protective apparel, GPS and manual, clothing, and personal effects. A tent, sleeping system, cook stove and mess will be needed to complete the course; it is recommended the participant bring their own equipment if possible so they can practice using them in a real world environment, i.e. field cooking, packing, and setting up. (These items are also available from RawHyde for an additional fee).


RawHyde coaches will provide instruction beginning with your arrival on Sunday afternoon. We'll begin with GPS usage and route management. Sunday will be predominantly GPS and First Aid training. In the following days we'll cover topics like properly packing the motorcycle for off-road adventures, setting up the tent and sleep systems, cooking in the field, motorcycle maintenance, and self recovery.

Providing high quality, healthy food is important at RawHyde Adventures, and so is learning to cook well in the field. With assistance from the coaches, riders will be practicing their field cooking skills by preparing select menu items during several meals using their cook stoves and mess kits. This will be a fun, and "filling" exercise.

Of course, this challenging and informative course will be fully supported by RawHyde Adventure's custom built adventure truck and our highly trained chefs & paramedics for your comfort and well being.
SUNDAY

3:00pm:

Arrive at RawHyde


6:30pm - 7:30pm:

Meet & Greet in the Dakar Bar.


7:30pm:

Dinner.


Accommodations:

Rustic bunkhouse at RawHyde
MONDAY

7:30am:

Breakfast.


8:30am:

Departure, destination Base Camp Alpha.


12:00pm:

Lunch on the trail.


4:00pm:

Arrive at Base Camp Alpha.


4:30pm:

Class on setting up camp.


7:00pm:

Cocktails & dinner by the campfire


Accommodations:

Semi-Camping Base Camp Alpha
TUESDAY

8:00am:

Breakfast.


8:45am:

Leave No Trace lecture, GPS, tools & packing seminar.


9:15am:

Panamint Valley, Ballarat Ghost town, the Minietta Mine.


12:00pm:

Lunch on the trail.


5:00pm:

Return to Base Camp Alpha.


7:00pm:

Cocktails & dinner by the campfire


Accommodations:

Semi-Camping Base Camp Alpha
WEDNESDAY

8:00am:

Breakfast.


8:45am:

GPS refresher.


9:15am:

Hit the trail, infamous Mengel Pass, Gold mines and more.


12:00pm:

Lunch on the trail.


5:00pm:

Arrive at Goler Wash - set up camp.


7:00pm:

Cocktails & dinner by the campfire


Accommodations:

Field Camping Goler Wash
THURSDAY

7:30am:

Breakfast.


8:30am:

Depart from Gola Wash for Death Valley.


12:00pm:

Lunch on the trail.


6:00pm:

Furnace Creek Ranch in Death Valley, Hot showers!


7:00pm:

Cocktails and fine dining in Furnace Creek Ranch.


Accommodations:

Death Valley Furnace Creek Ranch.
FRIDAY

8:00am:

Breakfast at Furnace Creek Ranch.


9:30am:

Hit the road for RawHyde ranch, asphalt all the way!


12:00pm:

Lunch on the trail.


3:00pm:

Arrive at RawHyde, cold one in the Dakar bar before a light dinner or head for home


Accommodations:

Rustic bunkhouse at RawHyde
SATURDAY
Head for home.
&