RawHydes Rider Training Programs

Above is an overview of the Intro To Adventure training program.
Thanks to Greg Hren for producing this fantastic video.

Welcome to RawHyde's "Rider Training Programs". We call our programs Adventure Camps, because they are much more than a simple riding skills program. They are all encompassing adventures that provide a much richer experience than just a class room and a training field. You will definetely learn a lot about riding your motorcycle in challenging conditions, and your confidence will skyrocket, but your experience is much more than just training. You'll enjoy the camaraderie of the campfire, hanging out in the Dakar Bar, and sharing fine meals together. You'll have the chance to learn about many of the ancillary things that go with Adventure Riding, Navigation, GPS, trail repairs, the latest in communication and a whole lot more.

Our primary goal is to show you how to ride your Adventure Motorcycle comfortably and safely in an off road environment.

Adventure Bikes are the SUV's of the motorcycle world and can be intimidating if you don't have experience as an off-road rider. We will give you the experience you need to begin to explore the world..."your way."
NOMENCLATURE CLINIC
How familiar are you with your motorcycle? Today's motorcycles are increasingly sophisticated and the systems and sub-systems are baffling to some folks. Terms like ESA, Traction Control, ABS, and Enduro Pro can be confusing – let us help you figure out the nuances of all this. Additionally, most motorcycles leave the factory in a "one size fits all" manner and there are many things that you can do to optimize the bike to your size and weight. We touch lightly on some of these things in the weekend class, but this clinic will not only make you intimately familiar with your machine, but will help configure the bike ergonomically so that it fits you perfectly. The price for this clinic is $125.
PRE-TRAINING CLINIC
Thinking about signing up for an off road class? Want a little extra Learning time?? We have learned through our years of experience that many folks (especially new off road riders) would like to dip their toes in the water before jumping into something in which they have no experience. Its quite normal to have the "jitters" but if you'd like a little extra time to figure things out before the formal class begins you can take advantage of a new program we've started called "The pre-training clinic".
This is a four hour program that begins on Friday afternoon before everyone else arrives. The clinic is geared to ease you into the training program with a little more confidence. The clinic focuses on Balance, Throttle and Clutch control and basic braking. There are several advantages to this – early arrival, extra time on your motorcycle and a very personalized experience to build your confidence before class begins. The clinic size is limited and the price is $325. There is no additional charge for use of a bike if you're renting for the weekend from us.
**compare our pre-training clinic to "early boarding of an aircraft" Get in early, get settled, and relax before the rush.
Take both clinics for the discounted price of $400.
We offer 3 different training programs

· Introductory - The Intro To Adventure
· Intermediate - The Next Step
· Advanced training - The Expedition CV.
The Intro to Adventure: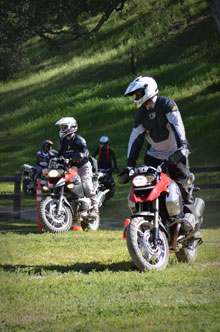 This Class follows the curriculum taught at BMW's very own training school in Germany. This program is for the novice off-roader; someone with a measure of "street experience" but little or no off-road experience. Many participants in this program do have some dirt bike experience in their past, but also recognize that handling a big bike off-road is much different than a light weight dirt bike. Our goal with this training is to give our customers the opportunity to get comfortable in the dirt, and togive them the confidence to explore the logging roads and back-country tracks of the world.

Click here to learn more about the Intro To Adventure program.

Note: this is not a "beginners" dirt bike training class, we recommend that you complete a Motorcycle Safety Foundation "Rider Training Class" and that you have at least 3 months of general riding experience before signing up for this program.


The Next Step: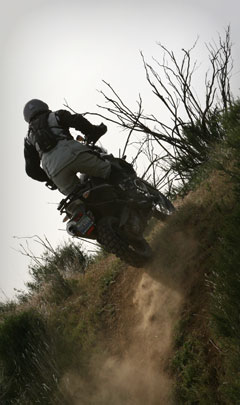 This program is aimed directly at riders who have completed our "Intro to Adventure" program or have at least a year of off-road experience. The curriculum is designed for those who want to begin to expand the boundaries of their riding and travel beyond the realm of logging or forest roads. We will begin to work with skills that will help the rider gain confidence for managing rougher trails. The goal is to reinforce the lessons of our introductory program, to increase the pace, and to equip the rider with a skill set such that they can overcome virtually any obstacle encountered on a round the world trip. This class will teach the rider a very complete toolbox of skills, skills that will enable the rider to conquer any foreseeable challenge.

Click here to learn more about the Next Step program.


The Expedition CV:
This program is part expedition preparedness, part education and part vacation. It's a real life adventure, on a fully loaded motorcycle and it takes place in the "real world" not the carefully crafted environment of our training school. To top the experience off… this is one cool trip as well.

Click here to learn more about the Expedition CV program.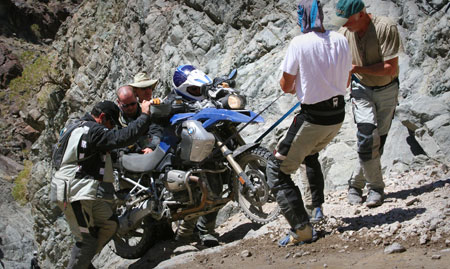 &