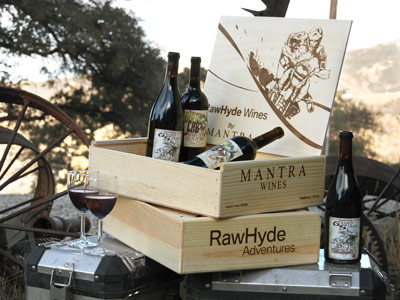 Few people know how I actually got involved in the motorycle industry. It was back in 1997, and I was on a wine tasting vacation in Italy. We were drifting among the vineyards of northern Italy on tiny cobblestone roads that twisted torturously among the lower reaches of the Alps and Dolomite mountains. I was riding in the back seat of a Peugeot mini van when I suddenly had the idea that these serpentine roads were custom made for motorcycles. It was funny because I had not thought of a motorcycle in 20 years. My last two wheeled ride had been a Honda Elsinore back in 1974, and here it was 23 years later. After the trip was over I could not get the idea from my head. I envisioned myself drifting on two wheels through the same vineyards of Italy that I had seen from the back seat of the Peugeot.... so I signed up for a motorcycle vaction with Beachs Motorcycle Adventures, and the owner Rob assured me that the region I wanted to ride through would be part of the tour... I took a two week tour of central europe and Italy. My ride was a brand new BMW GS. I was hooked!

As I developed RawHyde one constant part of our program has been fine wine with dinner each night. I have told the story of Italy and my first GS ride a thousand times... and each time I do the memories come flooding back...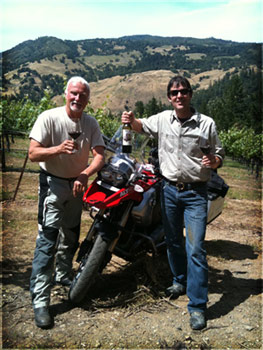 In late 2009 I had the pleasure of meeting Mike Kumelis of Mantra Wines. Initially we met via an email exchange regarding our training school. The topic however quickly changed to wine... and somehow Mike booked himself into a training program in spite of the fact that most of our coversations had been about wine. I could not resist asking Mike to bring a case of his wares to RawHyde and also suggested that we do a "Winemaker dinner" while he was with us... Mike suggested that we roast a wild boar, and I said... well - boars are a little hard to come by here at RawHyde... but Mike was not to be deterred. a few days later he called back and said that he had acquired a wild boar which he would bring with him to roast. He said that our winemaker dinner would be called "Swine and wine".

And so it was... Swine and wine was a great sucess.

Mike and I began talking about a wine for Adventure Riders and those conversations have evolved into what you see on this page. We offer three wines for your drinking pleasure.

RawHyde's "Dirty Cab" This is a true Cabernet Sauvignon - its bold, extracted and delicious.

RawHyde's Grand Syrah. The Syrah grape makes one of the most intense red wines on the planet. This is no exception - its a darn good wine that has been given a 92 point rating by Robert Parker who is Americas foremost wine critic

RawHyde Red. (COMING SOON) This is a Bordeaux blend consisting of mostly Cabernet Sauvignon, some Merlot and a bit of Petit Verdot, Cabernet Franc and Malbec.

So - we are pretty proud of these wines. And personally I believe that wine ties friends together with great memories... and a great bottle along with a good meal and friends make for a darn good time. Wine is simply one of the "finer things in life." These fun bottles will give those of you who ride "Adventure Bikes" a chance to bring your passion for motorcycles to the dining room table in an unusual way. Or if you know someone who owns an adventure bike; this would be a wonderful gift. Christmas and the holidays are coming and our wines are sure to be terrific conversation starters.

The bottom line is that this is a wine that is produced and bottled "by Adventure Riders - for Adventure Riders" we hope you like them.

Cheers Everyone... Jim Hyde.
ORDER COMING SOON


We are updating our selection and pricing.
Check back soon.
&